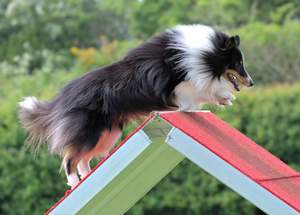 What is Dog Agility?
Dog agility is fun; both for dogs and their owners. It also requires a disciplined process of training that further strengthens the working relationship between dog and handler.
Agility is a popular sport in which  dog and handler work together as a team against the clock. The aim is to navigate around an obstacle course of jumps, weaves, tunnels, 'A'Frame, Seesaw & Dog Walk, without incurring any penalties.
A high level of basic obedience is required before commencing training dogs for Agility. Agility is done off the lead, so the dog must be accustomed to coming when called, being put and left in a sit or down position and should also be confident in close proximity to other dogs and people. It is never too early to start teaching a dog the basic control required for agility.
Training a dog to do agility (and training the handler) takes a lot of time and dedication. Is the reward worth it? Definitely, just ask any of the hundreds of handlers who turn up to shows each weekend across the country, in search of that illusive clear round win.
Interested? contact Maryr on 07752978076  or complete the form in the 'contact us' section'.
Please note that Agility training takes place on the Wateresk Road, Maghera. There is a link to a google map on the home page.
---